I have a notebook obsession – seriously, it's a bit of an issue that I try to handle every single day. I even tried to get rid of a few old ones the other day, and as I was flicking through  the pages of one of my numerous 'ideas' notebooks, I came across a small passage that I wrote. It was a first-person rant by a female character who was fed up of being called arrogant for thinking she was beautiful. When writing it, I think I must have been maybe fourteen and most definitely insecure about my appearance, so of course I wrote about characters who were confident, strong, and took absolutely no shit from anyone.
perezhilton.com
Anyway, it got me to thinking – a rare activity for me – about why I, along with so many other girls, are so insecure. Yes, the easy answer is media and body-shaming and blah blah blah, but I think it's more than just telling girls that they need to be skinny or it's beautiful to have flawless skin and long flowing locks like some sort of Disney princess. I think you could go far enough to say that we're not telling girls just about what beauty is, but that they can't be beautiful. Or at least, they themselves can't think that.
I'm not making much sense? Right, let me take you to a classic example of a pop song by a boy band beloved by most young girls. Heard of that horridly catchy and irritating What Makes you Beautiful by One Direction? Now, not to hurt too many feelings, I'm sure the boys of 1D did not intend to fit into the stereotype of putting down girls nationwide, but they certainly do with that number. Yes it might sound cheerful and seem sweet about a boy telling a girl she's beautiful, but let me remind you of the killer line 'You don't know you're beautiful, that's what makes you beautiful'.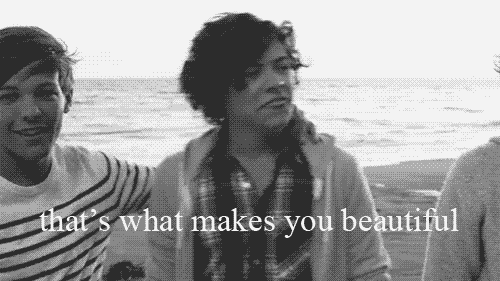 giphy.com
I know, I know, they seem very cute, but STOP THAT RIGHT NOW. Are you seriously kidding me with this line? Let me elaborate what they're saying here several times:
You don't know you're beautiful, that's what makes you beautiful
What makes you beautiful, is that you don't know it
I like the fact you think you're ugly, it makes you more attractive
You have no self-confidence, which I like
I like to be superior and for you to feel inferior
Ok, maybe the last one is going a bit too far, but I'm standing by my point. We are telling girls that it's better for them to have no self-confidence. It's not good to think that you're pretty or beautiful because that's too close to arrogance which isn't at all attractive. Far better for a boy/man to find a girl who thinks she's worthless so he can be the one to reassure her, or not. We go back to the ageless stereotype of thinking girls should be meek and quiet who need to be saved by strong men. Stop that right this instant.
goodreads.com
And so we're back to the classic slut vs stud dichotomy; women who sleep with lots of men are sluts, men who sleep with lots of women are studs – simple! You would think we'd be past this by now but, alas, we are not. And boy bands are partly to blame. Sort of.
Why are girls encouraged, still, that having confidence isn't great? In an age when we're trying to get girls thinking that they can be just as good as boys, and telling both boys and girls that they don't have to fit the stereotype of being strong all the time/quiet and meek all the time, there are still a million and one issues. Beauty is one that we usually think we've covered, like there's some long list and after the numerous attacks on body-shamers and huge long articles about plus-size models and what not, we've ticked that box. Hate to be the party-pooper, but we're a long way from done. Girls are told to be confident in themselves and their abilities, but that doesn't yet truly extend to being confident about their beauty.
So, let's please change something. Even if it's just a song that now says 'You don't know you're beautiful-oh wait, you do know? That's great news; I find your confidence attractive and I like that we're on equal footing', although that's a little less catchy.