I was tempted to write about writing, or about books, and I probably will go into those two subjects in more detail later on (and if you're desperate to read more about books, then head over to my other blog alwayslovetoreadalot). But I decided let's go to the heart of the matter and what makes up literature: words.
dailytoa.st
To mark the anniversary of 400 years since Shakespeare's death, I attended a late night at the British Library and although we were celebrating the great bard, one particular phrase that caught my attention was 'a love of words'. Because really, I have a serious love for words. The idea that a combination of words helps you tell stories is just fascinating when you take a step back from it all, and, really, we tell stories every time someone sings, writes a book, speaks to a friend – the list just goes on.
I adore stories, hence my love for books, but I love telling stories, hence my dream of being an author. Even day-to-day anecdotes are fantastic: setting the scene, raising the tension, hitting the punchline, and wrapping everything up in a satisfying package. We've told stories since the first human being spoke, and we haven't stopped since.
tumblr
I started writing down some of my favourite words since reading A Little Life by Hanya Yanigahara (which, if you haven't read by now, you really should). She packed that book with so many beautiful words that just fit so perfectly into her narrative that I'm pretty sure it gives euphoria to every word-lover out there. So now it's time for a truly exciting blog post where I tell you my favourite words. I can practically feel your excitement from here.
First of: Specificities. Just say it aloud. Specificities. Now if that isn't a fun word to say, I don't know what is. All that sibilance is just, ah, so spectacular.
Ceaselessly. Oh yeah, more 'ss' sounds. It also reminds me of Great Gatsby, so what's not to love?
Whimsical. I like how on the 'whim' you get a small smile on your face. It also has that beautiful arc, like going over a hill – up for the 'whim' and back down again from 'sical'. Music in words, people, it exists and it's beautiful. Feel the beauty.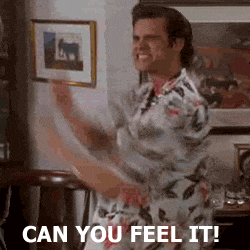 giphy.com
Placidly is another, and I'm pretty sure I just like these words because they're fun to say. With the end of this one, there are just too many letters to sound out. The 'ss' sound, the emphasis on the 'd' sound, and then the 'ly'. Such fun.
Taint. Don't ask me why. I think it's something to do with the overlapping 't' sound.
Thither. Swivel. Discombobulated. There are just so many words. And I love them all.
I think it's also safe to say that essay and exam season is making my brain slowly melt, until I'm just a mess of a human blathering on about words and how fun they are to say. Here's hoping for better content come June.
onehallyu
But seriously, what are your favourite words? Don't be shy, we're all non-judgemental here. I'm hoping anyone who can read to the end of this post isn't judgemental at all. (Please don't judge me)