Let's talk stress.
The education system these days is built to be stressful, and my particularly secondary school excelled at creating the most stressful environment – and that was just for the end of year exams when we were 12, let along the actual GCSEs or A levels when we were 16-18. You could say that I've experienced a lot of stress, just as most people have, but when it comes to university it's very different – at least, that's what I've found.
hexjam.com
In secondary school, a lot of pressure was put on – and although I am talking from my own personal experience, from talking with people I've met it's usually a guarantee that there is pressure. It was all about getting those GCSEs to get into a good sixth form, then getting good AS results to get university offers, then getting your actual A levels to get into university. There was a lot of pressure, talks about what you should be doing, and over-the-top comments about futures working at McDonalds if we didn't revise trigonometry.
In university, I've found it to be very different. Instead of constant talks about exams and essays, they're mentioned almost in passing. Oh yeah, you guys have an essay due soon, the essay titles are up online. Boom, that's it, no more, move along, get to it. The stress isn't put into you by others – no, instead, you are the one who will get stressed on your own. Personally, I worry about everything. Literally everything. I'm early, even when I'm late, and over-plan everything, double checking with friends about times and places and what's happened and dress code and – god, it's a stress just waking up sometimes (especially when I have 9ams). When it comes to exams and essays, I worry slightly in the run-up but the actual fear and anxiety doesn't start to choke me until a month or so beforehand. It can be overwhelming, especially if you deal with anxiety on a daily basis. There isn't any hand-holding at university, and dealing with everything on your own can be daunting. There's no point lying and saying that really it's all ok and you'll be fine, because the truth is you need to work your arse off to even do average – at least, that's how I am.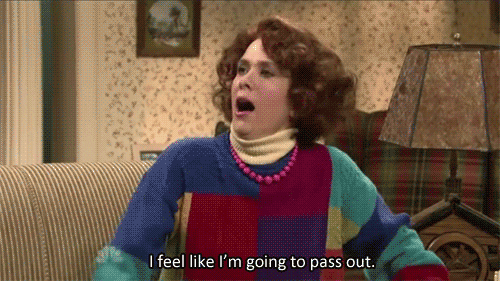 giphy.com
The trick? Well, there isn't one – and if there is a trick, then it's different to everyone. Maybe you work better being in the library from dawn until dusk every day, or maybe you're better at doing only half an hour every day for months upon end. I hate the library with a vengeance – even when I don't have exams or essays coming up, just walking through the silent halls and creeping past people scribbling on paper or typing furiously at a computer freaks me out. I feel stressed whenever I try to work there, so normally I avoid it until I have to go to find books for said essays and exams.
My trick to combat stress? Take it one day at a time. I can't work with timetables that map out my work for the next few weeks, it just makes me more stressed when I get behind schedule – and, trust me, I get behind schedule. I like to make a few lists of what I need to do for each subjects, and then each day I break them down. I pick one or two things to focus on each day. And if I don't finish them? Not a problem, just finish it off the next day.
tumblr.com
Also use reward system – trust me, it's a beautiful thing. You need restraint, yes, but if you set yourself achievable – let me just stress that again, achievable – goals that aren't stupid like 'write down the title', then reward yourself at certain points. For example you could do so much as to say get halfway through an essay, or just write the introduction, yet for me I do it at the very end goal of finishing the essay. For exams it's a more gradual process, so I of course celebrate when they're over, but I also set mini goals throughout. Such as work through a set amount of lectures, or make all the notecards, or plan out as many practice questions as possible. Again, it's taking one thing at a time.
I suppose university is only good for a certain mindset. If you need someone to tell you exactly what to do and when to do it, university probably isn't for you. Hell, I'm at the end of my second year and I still haven't been told how to write an essay. I've just been told not to write an 'A level' one, whatever that means.
thinkbonfire.com
I'm not sure how helpful this guide can be, as really it's just advice for a younger version of me as these are the tricks that work for me, but trust me when I say I can understand stress. I know how, well, stressful it is. It's tiring just being stressed, and most days I just want to stay in bed and call in a sick day. But there's no stopping time, no matter how hard you wish for the hands on the clock to just pause for a moment, so you just need to take it one step at a time. What's that cliche phrase about how every marathon starts with a single step? You know the one. Think of that cliche whenever you're stressed, and then laugh at yourself for being so cliche. Cheer yourself up with whatever cheers you up – whether that's seeing your friends, eating copious amounts of chocolate, watching an episode of your favourite show, playing with your dog – and then tell yourself to just work a bit longer for that day. That's all it takes. It's a long haul, but in the end it's worth it.
At least, I think it is. I'll let you know next year.
Shit. Next year I finish university. Now I'm stressed. Again. Luckily I've just booked a trip home so I can play with my dog and take it one day at a time.